By: Wade Hanna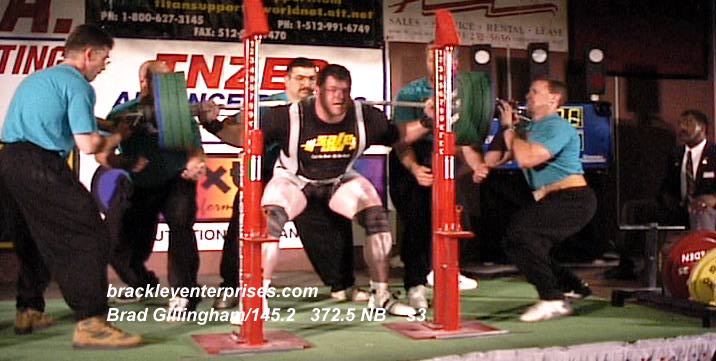 Big Brad Gillingham, son of the All-Pro Offensive Lineman Gale Gillingham is talking with Strength Online. Brad has been the US SHW representative at the last couple IPF Menís Worlds. Brad is one of those guys you canít miss since, as has been stated by Jason and Andrea Sortwell, he has a shoulder span that is not even remotely believable! Couple that with a whopping 6'5" frame and he occupies some serious real estate. Like many of the other VERY large PLíers and strength athletes I have had the privilege and honor to talk with, Brad is a very nice and pleasant individual. Brad placed a strong 4th at the 98' Worlds following an extremely LONG and rough travel schedule just to get there. He keeps moving up each year and I think had the travel conditions been a little more favorable you would have seen him pushing that #1 spot!
As always, Iíll defer to the talks with Brad so you can see what he has to say, instead of reading my aimless babble all the time.;-) I am very happy to have talked with Brad and I think he is going to be one of the elite that has his name talked about for a very long time.
SO: Let's start with some biographical background...height, weight, age, occupation, etc?
BG:
6'5"
320
32
Minnesota Pollution Control Agency
Wife-Diane
Daughter-Emily 7 months
SO: How did you get started in PL?
BG: I have been involved in athletics my whole life. I had been training with weights for other athletic events for several years previous to competing in my first powerlifting contest in 1989. I was out acting like a genius one evening and suffered a very serious knee injury in college. After a 6-hour surgery it took a long time to build back enough strength in my leg to stabilize the joint, and unfortunately it was not back to full strength for a couple years. This screwed up my college athletics. My brother Karl started competing in 1988 and got me involved in the great sport of powerlifting.
SO: What are some of you more memorable experiences to date as far as competition goes?
BG: I have been fortunate to compete in IPF International events in Canada, Czech Republic and the Ukraine the past three years. This is something I only could have dreamed of when I first start competing in 1989. The thing that stands out the most in my mind is the camaraderie that took place amongst the USA team at last years IPF World Championships in Cherkasey, Ukraine. The conditions we faced.... and the place on Earth we were at.... really brought us all together as a team. What an adventure .......... Something out of a Rocky movie!!
SO: What are your best lifts in each of the big three in competition, the gym, and where would you like to get before you stop competing, if ever?
BG: My best lifts in competition are:
Squat 821
Bench 584
Deadlift 825 USAPL American Record 319 Class (Ed. Note: Brad recently pulled 840lb in the MN state championships...Great job!)
Total 2205 USAPL American Record 319 Class
I Benched 600 in the gym one week prior to the 1998 IPF World Championships, but unfortunately did not get a shot at it in the Ukraine due to having to repeat my second attempt with 584.
I have deadlift 845 in the gym during my training cycle prior to the Worlds. The problem I keep having is with the fast pace of the IPF style meets I have been running out of energy for that real big pull.
SO: I just have to ask this since it is one of my favorite topics...what are your thoughts on a 2400 total?
A 2400 total would be great. It seems like a long way away at this point, but in 1993 PL USA interviewed me for the first time. My best total at that point was 1985 in the 275-pound class. In the interview I stated that I wanted to hit 2200 someday. I used this for motivation, but really didn't think I would get there, and I hit 2205 this year. If I keep from getting hurt and keep improving 2300+ should be a possibility. I have always tried to set my goals high, but still being realistic in the process.

SO: Do you have any PL hero's that have really motivated you in the course of your PL career?
BG: I have been motivated by a number a people involved with powerlifting. Too many to mention, but a few come to mind:
My brother Karl-has always been an inspiration with his never quit tenacity.
Mark Phillipi-We have had incredible battles over the years, and have developed a good friendship.

Sean Culnan-Improves every year and is very hungry. We have developed a good friendship and trade a lot of training ideas.
Bob Dempsey-The ADFPA SHW Champ when I first started competing nationally. A Great competitor and person, on and off the platform. Powerlifting suffered a great loss with his passing.
John Binkowski and Beau Moore- are a couple of fierce competitors I have faced over the years that I constantly have to keep in mind. There is never any room for getting lazy in training with these guys around. For that matter there is never time to let up. There is always some one new that's Hungry and training hard.
SO: Who has taught you the most and what things did they teach you that you feel are the most important?
BG: My dad, Gale Gillingham (5 time NFL All Pro Green Bay Packer Offensive Guard) has developed the basis of my training around the Power Rack, and by keeping things simple. Mainly focusing on large muscle groups. He has taken on the best in his day, Dick Butkus, Mean Joe Green, Bob Lilly, Curly Culp, etc. His experience with not losing focus on the task at hand has helped me out in the bigger competitions.
SO: Would you consider any particular area (muscles) to be more important in maximizing your total or do you think that everything needs to be roughly equal?
BG: I feel that you need to balance out your lifting to maximize your total. If any muscle group stands out in my mind as the most important it would have to be the back. The back is the real power cell for all of the lifts.
SO: What lifts do you feel are your strong/weak points?
BG: I am fortunate to have a good bench to go along with a big deadlift, which is a rare combination. My weak point would have to be my squat. My height is definitely a factor. My knee injury also hurts my training at times.
SO: What type of training regimen do you use and could you give us a brief example of what it might look like?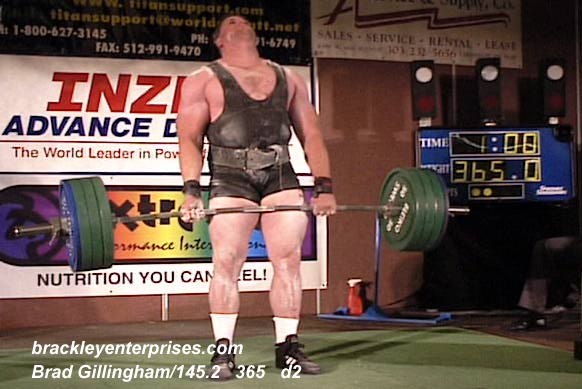 BG: I train 3 days per week focusing on the Big Three. I Deadlift Monday, Bench Wednesday, and Squat on Fridays. I like doing power rack partial movements. I like to Power Clean, and feel this helps me to stay explosive and athletic. I shy away from machines almost entirely, and try to do most of my assistance with free weights. I rarely train in gear. I like to push the limits of Weight and Intensity each workout. I am from the old school...... Nothing comes easy.... If you don't move big weight in the gym you can't move big weight on the platform.... I am smart about getting adequate rest, and knowing my limits. Sometimes itís smart to back off and avoid injury.

SO: If you had to pick three aspects of training as the most important...what would they be and in what order?

BG: Planning, Intensity, and Simplicity

SO: Do you follow any type of specialized diet or are you more along the lines of a "see-food" eater?

BG: I am not a Health food nut of any kind, but at the same time I try and eat right. I make sure I get enough protein and carbs every day. I am not real selective on my sources of protein. Beef and Pork are my favorites along with drinking about a gallon of milk per day. I am real fortunate to be sponsored by SportPharma USA. SportPharma USA has really helped me to take in the supplementation I need. I particularly like the Promax Bars and Protein. I also supplement with some of their other products: Creavol, Creatine and Glutamine.

SO: Have you felt that as your size (read: weight) has increased it has had any positive/negative affects on your lifts? Obviously more muscle will help, but has your bigger size impeded/helped any of the movements? If so, what have you done to combat this?

BG: I have put on an average of about 10 lb. of body weight per year since High School. This has obviously led to my strength gains. I have just recently started to have some negative side effects from my growth. I used to hear stories about Kaz and how he had a hard time squatting because of his shoulder width making it difficult to fit inside the bar. I could never understand this concept until recently. I am starting to have a hard time just getting my hands inside the collars. I also have developed some elbow and shoulder pain due to this.

SO: Most really strong Deadlifters aren't that strong in the Bench, yet you push and pull very well. Is this something you have addressed specifically or is that just kind of how it happened?

BG: My back has always been a strong point. The bench, I can't explain. I have very long arms that should not be conducive to a big bench.

SO: Since Karl (your brother...for anyone who DOESN'T know ;-P) did so well at the Full Strength Challenge, do you have any aspirations of trying out Strongman Competition? Plenty of strength, strong DL'ers tend to do well, and you have great height...is this something we might see in the future?

BG: Both of my brothers Karl and Wade have a full line of different Strongman implements that they have been training with. I am planning on going this direction in the future, but right now I feel I have some unfinished business in powerlifting. The risk of getting hurt in strongman events is much greater than powerlifting. Thereís always a risk in everything we do but the two strongman competitors I frequently talk with were both injured this summer. Mark Phillipi suffered a very serious injury to his knee at the 1998 Worlds Strongest Man, and my brother Karl seriously separated his shoulder at the 1998 Full Strength Challenge. Both of them were injured attempting to flip over an automobile. All factors considered the money is enticing and the exposure with ESPN is great. I am debating right now over entering a contest this spring. I just don't want to mess up an opportunity for an IPF Gold Medal when it is close to becoming a reality.

SO: Any thing you would like to see happen in the future to help promote the growth of the sport?

BG: I would like to see the IPF World Championships come back to the USA. The Sport is very well received in Europe. There have been packed houses at both of the World Championships I have attended. Many of the participating countries have television coverage at the event. EuroSport (Europeís version of ESPN) covered both of the World Championships I participated in. This TV coverage has taken the sport into the European households. People over there know who the competitors are, and take great pride in their Country teams. The battle between Russia and the Ukraine for the IPF World Championship the past couple years is well known across Europe. The atmosphere created by the Ukrainian spectators at the venue this year was incredible. Athletes from all countries competing for World Championships are well known names. Much like the Strongman coverage in this country.

SO: Anything I may have missed that you would like to expand, touch on, or mention?

BG: I would like Thank You and Deepsquatter for the opportunity to be included on Strength Online. I would like to thank all of my sponsors that have been very generous to me, and are helping me to achieve my goals:

Titan Support Systems
Safe USA
Stevenson Insurance
SportPharma USA
Joe Weider Publications


Well, there you have it. One more of the ďbigĒ guys and I donít plan on letting up anytime soon. Brad, I just want to say a heartfelt thanks for this opportunity and we wish you the best of luck in ALL your future endeavors and competitions! So until next time...stay strong and good liftiní.

-wade
(Thanks also to Phil And Kathy Andrews of Brackley Enterprises for the use of the images from The USAPL Nationals that accompany this interview. For info on video of the meet or images on CD please visit their web site)
| | | | | |
| --- | --- | --- | --- | --- |
| | | Want to discuss this with other lifters? | Then click here: | |
Reproduction of this article, in whole or part, for any purposed other than personal use is prohibited without written consent. Copyright 1999 Deepsquatter.